I used to cry myself to sleep.
Regularly.
I felt so bad for my new husband. He was going to die because he married me.
And he didn't even know it.
Laying in my bed, his warm youthful body next to me, I would fall asleep imagining his funeral. I envisioned myself as a widow and somewhere between vowing to wear black for the rest of my life and picking out his headstone I would fall into another night of fitful sleep.
My maternal grandmother was widowed at a very young age. My mother says her father was a delightful man - the polar opposite of her step father. My grandmother's second husband also died. Although of what I don't know. My mother is like a locked vault when it comes to family history.
Mom was also widowed at a very young age. My father died when I was barely a year old. He was shot while out on security duty. My mother remarried and while my step father is still alive he had a brush with death when I was 8 years old. I'll never forget the evening when the hospital called our home beckoning my mother to the emergency room as soon as possible. She left preparing to identify his body. Thank God he recovered and incidentally never drank an ounce of alcohol again.
So, twenty years ago, when I married - when I should have been enjoying and building our new lives together, I secretly wept. I knew a curse when I saw it. My soul sensed trouble ahead. I was simply convinced of the ridiculous notion that I was destined to become a young widow like my mother and grandmother.
This fear solidly gripped my life for the first two years of our marriage until I realized I was allowing my imaginations to ruin my real experiences. That's when I decided no more!
It was a long and spiritual journey but I'm happy to report that those thoughts and fears don't invade my life anymore. I'm not afraid of car accidents and cancers. I don't pick out songs or bible passages for funeral services. After a lot of hard work and mental disciplines I am able to live and love freely and fully. And life is now so much more enjoyable.
Also, hubby didn't die.
That helps too.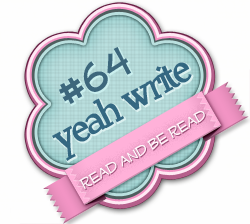 This blog entry is a writing prompt with the YeahWrite crew! I invited you to check them out. There are some fantastic writers and it's a wonderfully supportive community!
Tweet