Months ago I saw a small clip on the news about a self published book that was making HUGE waves. I wrote down the title so I could check it out. I had no idea - nor did I care about what the book was about! I just wanted to see if I could figure out what the author, E. L. James knew about publishing that I might want to/need to know as an aspiring author.
So I went to
Amazon
and read the free posted pages.
I wasn't knocked out necessarily by what I read but I admit I wanted to keep reading just to simply see what Christian saw in Ana. Plus it seemed all the hype was for nothing. There was no hot and steamy-ness in the free preview. So I put my name on it at the library, was told I was 3rd on the waiting list and within a week Mr. Smith from the Warren County Public Library called to tell me it was in.
He gave me a sheepish look when I picked it up. I'll admit it was slightly awkward.
When I had the book in my hand I saw why; the back cover said, "Erotica".
That very same week author E. L. James and 50 Shades had inundated media with her book dubbed "mommy porn" interviewing and confessing it was her midlife crisis/hobby to write out her personal fantasy in 50 Shades trilogy.
O crap! What sort of book had I checked out from the library?
Two things to note:
A.) I'm super private about private things and
B.) I'm a sorta prude
Also, oh yeah,
C.) I got kids. Kids old enough to know their mommy had picked up the sordid popular book. I was either going to have to hide the book from them or explain what porn is. Neither of which I was really interested in doing. (I can't even use the bathroom in private - how could I expect to keep an entire novel I was reading to myself?)
Nevertheless, the little voice inside my head said,
"How bad can it be anyway?"
and so I kept reading.
Christian goes to the hardware store.
Christian agrees to the photo shoot.
Christian and Ana go out for tea.
Christian flies her to his bachelor pad.
Christian is obviously screwy in the head.
Obviously Ana is as well. (Who in their right mind would sign a contract? I mean c'mon!)
They hook up ... uh-oh this is getting super steamy and
BAM!
he's got this weirdo creepy torture room.
insert screech noise
I slam the book shut and immediately return it to the library drop box under the cover of dark where I won't have to look any librarians in the eye lest they think I voraciously read mommy porn in one night.
Incidentally the key to self publishing is obviously sex.
Note to self: work on your query letter writing skills.
Now everywhere I go (and I mean
every
where) people are talking about 50 Shades of Grey. Some say it's nothing but smut. Other's argue it
is
every woman's secret fantasy.
Some say
it's poorly written and are bored of reading about 'shattered' while others are furious with
degradation of women
. No matter your opinion one thing is for certain ... this book is making E. L. James a freaking gazillionaire
and I might be the only person in the world who started it, shut it and won't ever read it again.
Why?
I didn't want Christian Grey or his sex-ness in my bed. Not literally, of course! What I mean is I know me and I know that if I would have kept on reading 50 Shades would have - temporarily or permanently - who knows - left an impression on me and subsequently into my very personal, private life.
And I don't want anyone else there except me and my husband.
It's that simple.
I like my personal life. A lot.
Am I saying it doesn't need improvement ... yeah, believe it or not I am.
It's that good here.
Inviting 50 Shades of Grey in will only change that.
So forget you Christian Grey. I don't need you.
I'm not interested in your good looks or weird tricks.
This chic is having a good time without you.
Hope you're not too, um .... shattered to discover not every woman wants you in her head when she's in her bed.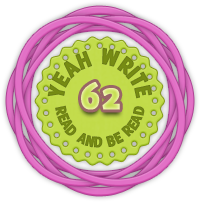 If you found me via yeahwrite thanks for visiting! If you don't know
what yeahwrite is go here
! It's fun for aspiring writers to showcase their blog, practice writing and meet new friends!
Tweet