So Abby's stepping stone broke.
(if you wanna know how you gotta read part 1 here)
Shattered really.
Did she drop it? Was she careless?
Did she leave it out in the rain?
No!
She placed her new creation proudly and gently on the ground and she stepped on it.
It broke.
My daughter broke her stepping stone by stepping on it.
Is anything more ironic?
First I picked up the broken pieces of her homemade stone
(as gently as I would have if it were her own heart splattered on the sidewalk)
and then I scooped her up in my arms.
Knowing all she had gone through I felt terrible for Abigail. She created her craft after much (and I mean much!) perseverance and patience. Her painstakingly created stepping stone shattered within seconds.
And everything inside of me wanted to "fix" it for her.
I wanted to make it better.
I wanted her to not hurt.
So my mind began racing. I thought about gluing it but I knew that wouldn't work.
We couldn't make another one for I had no more materials.
There was nothing I could do.
I couldn't fix this.
And now my heart was broke.
But what was I going to do?
If I can't fix it what
could
I do?
I could distract her.
I could buy her something else to cover up her pain.
I could make her a promise about making another stepping stone, buying another kit or going to the garden store next spring and getting a bigger and better stepping stone.
But I knew I didn't want to pacify her.
I knew I didn't want to trick her into feeling better.
I couldn't bring myself to trivialize her heartache with a promise, a replica or distraction.
You see, I think that we do a disservice when we don't allow our children to feel pain. I realize that sentence sounds completely masochistic especially if taken out of the context of this story but hear me out....
I
'm not proposing we cause pain or
induce pain or
protect our children from pain.
I think we should do all the above to the best of our ability.
What I'm saying is that sometimes we put all our efforts as parents (
or friends or sisters or daughters for that matter)
to help deflect discomfort for our loved ones and yet ... pain finds us.
Pain finds us all.
No matter how hard we try to avoid it.
And some of us work very, very hard to avoid pain.
Some of us work harder at avoiding pain than we do actually enjoying life.
(Now that's a tragedy!)
Pain happens.
Hearts get broke.
Friends betray us.
Lovers stop loving us.
Families quarrel.
Teachers make mistakes.
Bosses blame
and stepping stones break.
Pain happens.
I held Abby close to me, stroked her hair and told her how sorry I was. But I didn't pretend to fix it because I can't fix all her pain - not now, not ever. Instead, I hope, through something as simple as a cheap plaster paris kit, she learns
not
that pain exists but instead
how to deal
when pain comes.
Wouldn't that be the better lesson to learn?
Shouldn't I teach her how to cope with pain
not avoid it
or pretend it doesn't exist.
What if I robbed her the opportunity to experience genuine sadness?
Isn't sadness is a real feeling?
Like happy?
I would never consider not letting her be happy, why would I feel any differently about unavoidable sadness?
Would she be a better person?
Could she learn how to manage her feelings better?
Would she learn to face life with bravery?
It's just a stepping stone, I know.
But I saw this whole instance as a pivotal point in time.
I choose to let Abby cry and carry on.
And I was there for her.
Not with ice cream or promises of a better tomorrow
but with care and concern.
I think I made the right decision.
Life has sad times.
Let's stop pretending it doesn't.
Your comments are welcome here .... what do you think? Have you ever had this struggle? What would you have done if you were me?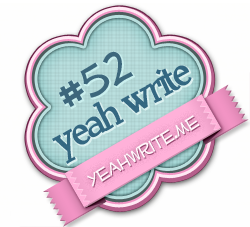 another yeahwrite submission!